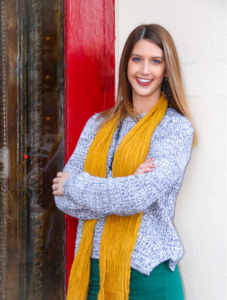 Sara Theut is the Owner and Creative Director of SunLion Marketing. SunLion Marketing specializes in creative marketing solutions to brand your business. 
Sara started her marketing career in 2013 at the Cy-Fair Houston Chamber of Commerce as a Marketing and Special Events Coordinator. She grew up in the Cy-Fair community and was passionate about businesses connecting and supporting each other. She led marketing and public relation initiatives and organized special events (expos, golf tournaments, fundraisers). 
In 2017, she transitioned to Choice! Energy Management (now GETCHOICE!) where she assisted with the firm's digital marketing efforts. Pretty early on, she noticed a need for business development and marketing strategies, so she shifted into a Marketing Manager role where she single-handily started its marketing department. She not only developed the skills to create an extraordinary workplace culture, but also spearheaded philanthropic initiatives and strategies for a national company rebrand. 
After working in corporate America for a couple of years, she decided to pursue her life-long dream and built SunLion in 2019. Sara created SunLion Marketing for the sole purpose of helping clients create customized branding solutions to stand out from the crowd. 
Sara enjoys music, the outdoors and spending time with family and friends. She is happily married to Josh Theut (her high school sweetheart); and is a proud mother to Lawson (2).
Let's build a bold brand together